Agencies & Associations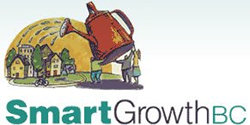 Smart Growth BC
Lobby or Special Interest Group
Mail: 319 West Pender Street, Suite 310, Vancouver, BC, V6B 1T6
Street: 319 West Pender Street, Suite 310
Phone: 604-681-7002
Fax: 604-681-7817
info@smartgrowth.bc.ca
Smart Growth BC is a non-governmental organization devoted to fiscally, socially and environmentally responsible land use and development. We work throughout the province with community groups, businesses, developers, planners, municipalities and the public to create more livable communities in British Columbia.
Staff
| Name | Position | Professional Category(s) |
| --- | --- | --- |
| Charley Beresford | Executive Director | Chief Administration |
Please note: Information provided on this page may not be used for sending unsolicited commercial electronic messages.
Organization Resources
Back to Top