Agencies & Associations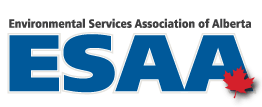 Environmental Services Association of Alberta
Association
Mail: #102, 2528 Ellwood Drive SW , Edmonton, AB, T6X 0A9
Street: 2528 Ellwood Drive SW
Phone: 780.429.6363
Fax: 780.429.4249
[email protected]
The Environmental Services Association of Alberta (ESAA) was established in 1987, and with over two hundred member organizations it has grown to become one of Canada's leading environment industry associations. ESAA is a business association with a business approach to providing programs leading to its members corporate success! Since it has been established ESAA has continued to provide its members with educational publications and conferences much needed in the ever changing environmental industry, as well as providing important networking opportunities. ESAA is committed to promoting its many members and their services. ESAA is proud to serve its member organizations!
Vision
The Environmental Services Association of Alberta (ESAA) is a not-for profit, event funded and membership driven association dedicated to supporting a strong environmental services industry.
Mandate
ESAA's mandate is to be a leader in promoting and developing the environmental services industry through education, events and meetings which facilitate productive relationships with relevant organizations and government.
Values
ESAA is and will remain accountable to its members for operating in a financially responsible manner while delivering high quality events and providing relevant services.
ESAA is a leading industry association responsive to the needs of the environmental services industry by providing a forum for engagement that supports dialogue with and between industry and government stakeholders.
ESAA is committed to supporting the growth of the Environmental Artworks Foundation of Alberta and other community and charitable initiatives.
ESAA has a strong and engaged volunteer Board actively contributing to the organization activities.
Organization Resources
Back to Top