News Release
< Previous
Article 7 of 92
Next >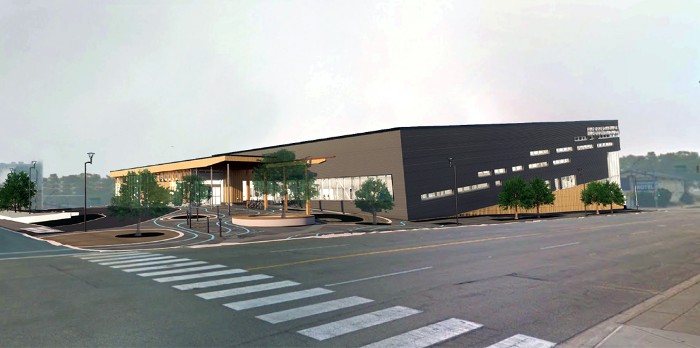 May 12, 2022, 9:03 am
Prince George and Canfor Enter Partnership for Naming Rights to New Downtown Pool
City of Prince George
PRINCE GEORGE
- A well-known name brand, corporate citizen, and long-time employer in Prince George and Northern BC will have naming rights to the City's new downtown pool. When it opens later this year, the new aquatic facility will be called the Canfor Leisure Pool after Canadian Forests Products Ltd.'s (Canfor's) successful bid in the City's recently concluded Request for Expressions of Interest for naming rights to the new facility. Canfor is one of the world's largest producers of sustainable lumber, pulp, and paper.
"Council is very pleased that Canfor has been awarded the naming rights to the newest addition to our downtown," says Lyn Hall, Mayor of Prince George. "Canfor is well known to Council and Prince George residents as one of our city's largest employers and a committed corporate citizen. We are thrilled that Canfor is making another meaningful investment in our community, and we congratulate them for their successful bid."
At the direction of Council, staff issued a public solicitation in late 2021 requesting submissions from companies interested in purchasing the naming rights for the new pool. The agreement, which was officially approved by Council during its Monday, May 9 meeting, provides the City with annual revenue of $75,000 for five years, amounting to a total of $375,000, with a mutual renewal term of a further five years at $75,000 per year.
"Canfor is proud to be a member of the Prince George community and we are excited to have the opportunity to support the new downtown pool, which will be a fantastic facility for local families and community members," said Don Kayne, President and CEO, Canfor.
Recently, the City of Prince George was singled out for
special commendation by the BC Construction Association (BCCA)
for its engagement and procurement practices with industry.
About the Canfor Leisure Pool
Construction of the Canfor Leisure Pool will be completed and the facility will be opened to the public by the fall of 2022.
The facility
will be eye-catching and accessible and have features attractive for all ages and abilities:
A six lane, 25-metre lap pool.
A four lane, 25-metre teaching pool with warmer water and shallow depth.
A leisure pool with a lazy river, beach entry, and play features.
A large waterslide with a run-off lane.
A "Ninja-Cross" obstacle course.
Dedicated male and female change rooms, as well as a large universal change room.
Sauna and steam room.
Rooms for lessons and training.
The entire facility has been designed with a particular eye for safety and accessibly. The pool tanks will feature shallow entries and "pool pods" to provide people with mobility devices to enter. The facility will also have improved lines of sight for lifeguards to increase safety for patrons and the change rooms will open onto the shallowest ends of the pools to decrease the likelihood of falls into deep water.
City of Prince George Media Contact
Julie Rogers, APR
Communications Manager
Phone: 250-561-7727
Mobile: 778-349-0457
Original post
Back to Top